The barrel organ was in a very poor condition after many years of experiencing unfavorable storage conditions.The owner wanted it put into playable and presentable condition, despite the fact that this extensive work risked erasing some traces of tools, wear and other original details. This risk did not give rise to any concerns in this case, as a number of other barrel organs by Gebr. Bruder are preserved, and since the barrel organ had otherwise been discarded.
The work included among other things
replacement of the parts of the wood that were heavily damaged by woodworm
filling and retouching wormholes that did not threaten the stability of the wood
replacing missing parts of the front intarsia
total replacement of the stiff and leaky leather of the bellows
partial replacement of valve leather in bellows and wind chest
replacement of defective valve springs
review of all pipes with regard to tightness, stability and sound; a few pipes opened and adjusted at the mouthpiece and edge
replacement of the rusted and stuck iron screws for adjusting the mechanics by new adjusting screws of brass
new adjustment of the mechanics, taking into account that the dimensions of the wooden parts had changed over time due to storage under very dry circumstances
Staining and shellac polishing of the outer surfaces
Before restoration
The following pictures illustrate the deplorable condition of the barrel organ before the restoration.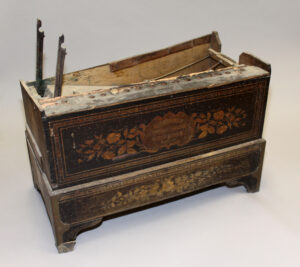 Front view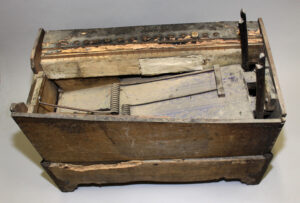 Back view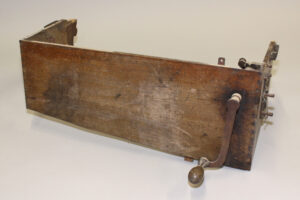 The broken off upper part, seen from the back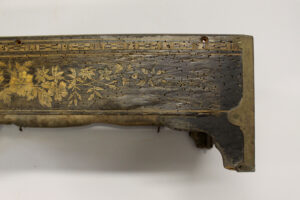 Extensive woodworm damage everywhere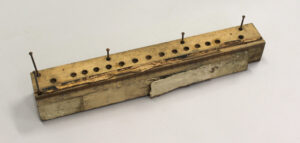 Back view of the windchest
Some of the wooden bass pipes were heavily damaged
After restoration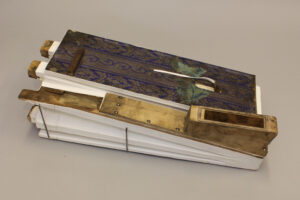 The bellows furnished with new leather
Front view of the fully restored barrel organ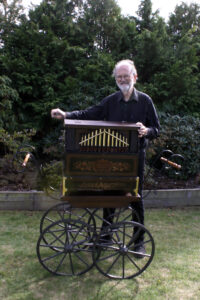 For practical use, the barrel organ was mounted on the lower part of an antique baby carriage
Hear the barrel organ play a Rheinlander Polka